…on the Internet.
It's been awhile since I reviewed American Songbook offerings available on the ether-webs radio dial.
Over the past 9 months, I've crossed paths with one outstanding station, and a couple of other strong players that I did not catch in my first cast of the internet radio net last summer.
These stations are "top drawer" additions worthy of an interim update to the vocalstandards.com top stations list.
Hey, you may already be listening to these cool American Songbook radio stations … but if not, there's no reason to wait around until my annual radio review next August to dial them in!

I listen to quite a bit of radio…
… both for pleasure and in the course of VocalStandards business. After a long day or two of "lean in" listening on a single artist or album to prep for a vocalstandards.com article, it's a relief, and great fun for me to have someone else "drive" for awhile.
Not only is it a nice change of pace but it usually comes with the added benefit of new and interesting material getting folded into my
listening "view". This "lean back" style of  listening is a blast … a great soundtrack for an evening with friends or cocktails/dinner with my wife.
It's become my "go-to" method of panning for new (or new to me) artists and material. I keep a notepad at hand to list out the golden nuggets that I glean as the standards wash over me … very cool.
All boats are rising…
…well, almost all anyway. My anecdotal sense of the overall "standards radio" streaming market is that it's getting stronger. There seem to be more stations on the web that offer full or part-time American Songbook streams AND I'm finding that the overall quality from these guys is better across the board.
That said, there is a gang of four broadcasters that represent the "cream of the crop" … truly separating from the rest of the pack. I'm not going to formally rank them with this interim update, but they are listed in order of the time I spend on the respective stations…
I missed Jim Raposa's excellent offering in my first internet radio round-up and that was a huge miss indeed. TSC spins a great, balanced mix of classic artists, crossover performers and new releases, but to me what distinguishes TheStandardsChannel is how Jim blends in just the right amount of deeper catalog artists and songs — especially from the 50's, 60's and 70's.
It's easy to overdo the "off the beaten path" stuff … drying out the play mix with esoterica to the point of losing coherency with the listener (see Jonathan Schwartz). That never happens on TSC.
What you WILL hear on TSC — commingled with the bountiful center-cut standards fare  — are interesting recordings and artists that are just a step or two away from the mainline, oft heard core of the American Songbook.
Interesting numbers from the less traveled side of Ella, Dean or Johnny Mathis' catalog and awesome songs from artists like Frankie Randall, Lenny Welch, Frank D'Rone, Karrin Allyson, Peter Marshall and Monica Mancini are blended into Raposa's mainline standards flow perfectly.
Great music and great fun that will have you scrambling to find out "who the hell is that?" or "what album did Rosie Clooney sing that song on?"
The meat of TSC is an excellent standards playlist — a balance of classic voices, fresh faces and crossover talent — nicely spiced with
those aforementioned "off the beaten path" goodies, but there are also some cool sub genre shows on tap as well.
Friday late-night and Sunday Breakfast shows focus on the jazz wing of the standards arena, and I'm looking forward to the return of John Gabriel's fun "Hollywood to Broadway" show as a weekly feature this summer.
TSC is not live radio with on air DJ's but it has a similar feel with Raposa's myriad of voice-overs, and the typical radio style ad flow. The ad blocks are usually very short (30 − 60 seconds) and professionally rendered … this is the style of radio listening we grew up with.
As I highlighted last summer, MITM is and remains one of the top purveyors of the American Songbook with a varied but still balanced playlist. Brad Chambers and team typically DJ the broadcast and that live radio show feel is one of MITM's major differentiators.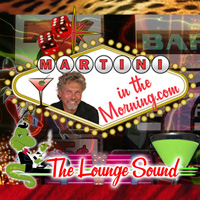 Martiniinthemorning spices up their balanced standards playlist with an orientation toward recent releases and crossover fare. Similar  to the way TSC weaves in "off the beaten path" classic material, MITM tilts their style more toward the Hollywood crossover set and the New Guard of songbook artists.
MITM's fun live show comes at a price though … the overhead of a live format business model is a tough nut to cover and it forces Brad and team to work hard to keep the martinis chilled and the music play'n.
Sadly that means they often spice the MITM broadcast with their self acknowledged "beg-a-thon" pitches — sort of PBS style. Hey, if it's necessary to keep the lights on, I understand and taken in moderation it's really not that bad. Over a longer listening haul it can grate a bit though — detracting from the cool mood set by live show and great music.
Complementary Competitors…
I'm sure Jim and Brad didn't plan it this way, but I love the way TSC and MITM musically complement each other from a style perspective. Both offer a baseline of balanced standards radio listening but then differentiate by emphasizing different slices of the American Songbook — TSC with cool "off the beaten path" numbers and artists from the Rat Pack era, and MITM by plying more of the recent artist set and crossover talent.
With this cool aggregated coverage of the genre, together these guys garner about 75% of my radio listening time. My personal listening orientation runs more toward the artists and material from the prime years of the Rat Pack era (mid 50's thru mid 70's) and consequently I tend to land on TheStandardsChannel more often these days. That said, there's always ….
"The Streisand Effect"…
It sounds like a Ludlum novel, but what it boils down to is … I just can't tolerate Barbara Streisand. She's an awesome singer and actress but I cant abide the woman as a person. So whenever Jim spins her up, I have no trouble bolting for safe ground over on MITM … that is until Brad queues up Babs; then it's off to Philly!
iradioPhilly offers a full spectrum of genre radio stations  — 19 different genres in fact from Bach to Bieber. These guys are another recent find for me, coming across their "Martini Lounge" station late last year while hunting up MITM on my Sonos remote. It sounded really great when I landed there, so I hung around for a test drive and have been a regular, if occasional, listener ever since.
iradioPhilly delivers pretty much a perfectly balanced standards radio experience. I don't sense any particular bent toward classic, new or crossover material … they are right down the middle and very good.
The lack of any sub-genre affectation like the TSC/MITM guys bring leaves the iradioPhilly – Martini Lounge listening experience feeling a little generic, but  sometimes generic plays just fine. Their broadcast is rock-solid and chock-full of standards goodness both new and classic … and best of all, I am yet to hear Streisand roll out of the Philly's Martini Lounge studio!
Number two on last summers top 10 list, Sinatra Style from JazzRadio is similar to the offering from Philly. My favorite from JazzRadio's deep stable of 28 Jazz genre stations (their, Vocal Legends, Bossa Nova and Swing/Big Band streams are cool too), Sinatra Style is pretty much a straight down the middle standards station … OK, maybe a tilt toward the jazz side but not out of sight of the center-cut American Songbook expectation set by the station's name.
The best of the rest…
Like I mentioned above, the overall quality across the standards radio landscape is very good and getting better. The four guys above are indeed the "cream of the crop" from my perspective but there is a passel of quality stations out there bringing it everyday. They all slice the genre a bit differently (sometimes very differently) … explore and have fun!